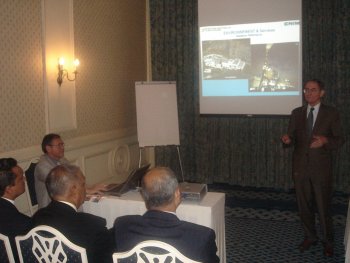 The conference took place at the LABOURDONNAIS hotel , in Port Louis, present at this conference:
The President and CEO of the CEB (Central Electricity Board),
Mr KASENALLY, Minister of Public Utility,
The Deputy of the French Ambassador to Mauritius,
Mr ISACK Rezza, Mayor of Port Louis,
Mr BACHIR Nazeer, Deputy Mayor and President of the Twinning Committee,
Mr ANOOP Madhow, Director of Air Mauritius.
Representatives of the Ministry of Finance, and the Prime Minister
Journalists (the morning, the express, the Mauritian, business magazine).
The purpose of this conference is to:
Present CNIM and its services,
Emphasize the interest of the "Martin Grid" which is the only one in the world used in incineration plants, manufactured by CNIM.