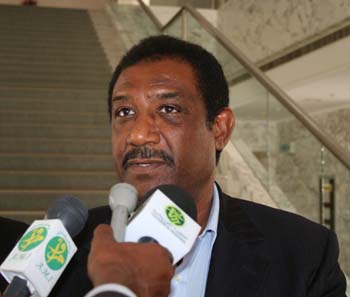 Following Mr. AJROUDI's visit to Mauritania, June 15, 2006, where he was received by the Head of State, Colonel Ely Ould Mohamed Vall, in order to see the opportunities of the refinery and oil drilling project. Mr Jamal Ould Hadi, came to Saudi Arabia.
He was received by Prince ABDULLAH on September 23, 2006,
Objective of the visit of Mr JAMAL : Conclude on the refinery and oil drilling project opportunities and finalize the related procedures Discuss the memorandum of understanding following the authorization of the Ministry of Energy and Petroleum for "Petroleum refining and forging", obtained on January 9, 2006.
During the meeting, Prince ABDULLAH, Mr  AJROUDI and Mr JAMAL stressed the importance of starting this activity as soon as possible and studying the other opportunities of the projects to be carried out in Mauritania.
An official visit of  Prince ABDULLAH  to Mauritania will be scheduled over the next few days.